Our homebound clients are unable to access congregate meal programs, food pantries, grocery stores, and food voucher redemption sites, and are therefore in need of home delivered groceries. To address their needs, Meals on Wheels has developed and implemented the Volunteers In Proxy (VIP) Program, whereby highly-trained MOW volunteers gather a box or two of non-perishable, nutritious food from our food pantry and deliver the food to the client on a regular basis. VIPs are also trained as advocates for the specific nutrition needs of each client. While at their home, the VIP will also serve as a "check in" to see how the senior is doing. The VIP would be expected to enter the client's home and evaluate the health of the client as well as the overall living conditions.
The program was started in 2013 as one of five key strategies laid out by the EAT Coalition to improve and increase senior awareness of and access to nutritious food resources on a daily basis in central Indiana. This program offers a formalized approach to the long-standing history of the use of proxy shoppers, and is similar to models elsewhere in the United States, including the Food 2 Friends program in Newport, Rhode Island.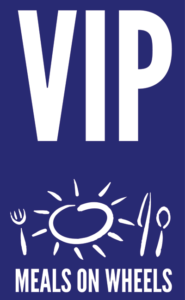 How do I sign up to be a VIP volunteer?
To be eligible to become a VIP volunteer, you must already be a trained Meals on Wheels regular volunteer. The typical time commitment would be one VIP volunteer training session and one pantry delivery per month with each of your assigned clients. For more information or to sign up, please e-mail Jessica Carter at jcarter@mealsonwheelsindy.org or call 317-252-5558.